With at least 40% of Islamic State's critical infrastructure under ruins, Russia is reportedly building secure and fully functioning refugee camps in Syria.
Obviously, this common sense measure not only solves the problem of refugees flooding into Europe where they could end up in unlivable detention camps but could also help ease the financial burden of host countries and avoid cultural clashes.
Showing the way: Russia starts building secure refugee camps in Syria
© Unknown
Now Russia starts construction of secure refugee camps in Syria, in cooperation with local authorities.
Russia has set up a first reception center for 500 refugees at a racetrack in the Syrian city of Hama. There are tents, four field kitchens, dining rooms and sanitary facilities, writes the German-speaking newspaper Sputnik.
During the past week, two Russian transport aircraft have flown 80 tons of supplies to the crisis area. The Russian planes have brought 15 tons of food and other supplies.
At the opening of the camp, the governor of the province of Hama, Hassan Omar Haljaf, and representatives of the Syrian military attended.
In his speech, the Governor thanked Russia for its help.
"During the four-year war in Syria, more than six million people have lost their homes.
Most have fled to Lebanon, Turkey and Jordan. Some have sought asylum in EU countries.
This is of course how it should be done. Giving aid where it's needed. Where the costs are thousand times cheaper than importing refugees to Europe. Where the culture is what they are used to. Where the climate is what they are used to. Again Russia shows more common sense than the West, sorry to say."
Russia's track record for providing humanitarian solutions to areas of conflict has been top notch especially in Eastern Ukraine and in Crimea.
In Crimea, Russia is building a 19 km long bridge to provide a direct link to the mainland, effectively bypassing the unfriendly Ukraine.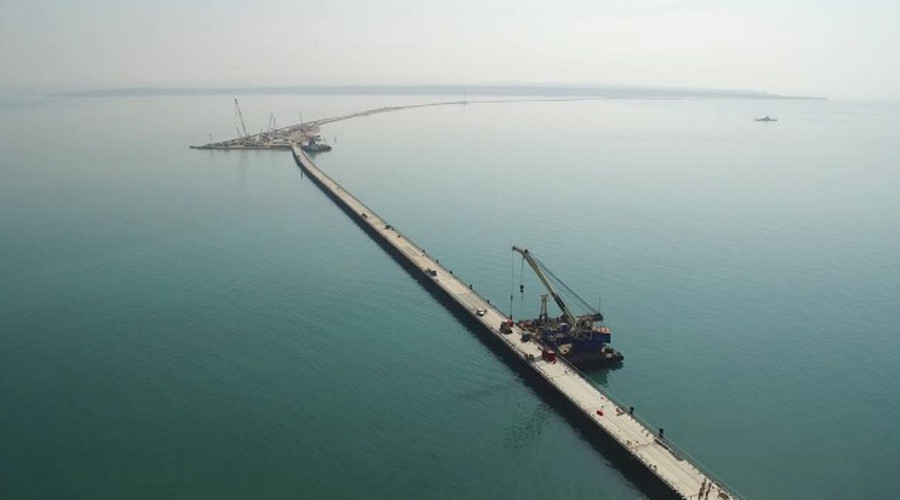 Russia has also sent 40 or more humanitarian convoys into the independent republics of Eastern Ukraine. And just like when it said that the Sukhoi air sorties in Syria don't require additional military budget, the Russians have no qualms either about the real cost of these humanitarian convoys on their economy.
In fact, today they are sending more…
"More than 100 trucks will deliver more than 1,100 tons of humanitarian aid to Donbass, including food (canned food, cereals, tea, salt), necessities, office supplies, firefighting equipment and medicaments. Humanitarian aid was collected by public organizations and labor unions from different Russian regions.
…
Since August 2014, convoys delivered more than 49,000 tons of humanitarian aid to Donbass." read more
Russia ready to send more humanitarian aid to Syria
ST.PETERSBURG, October 14. /TASS/. Russia's Emergencies Ministry has prepared another batch of humanitarian assistance for Syria, a ministry official said on Wednesday.
"It has been prepared and will be sent in the near future," said Vladimir Stepanov, the deputy emergencies minister.
A Russian plane will deliver around 30 tons of humanitarian cargo, including foodstuffs and essentials. The aircraft will take the citizens of Russia and the former Soviet states from Syria willing to leave the conflict zone.
Since January 2013, the planes of Russia's Emergencies Ministry have performed 43 flights to deliver humanitarian aid to Syria, and also to Jordan and Lebanon housing Syrian refugees and also to evacuate citizens.
One of the significant sources of funds for the fascist Nazionist Jesuit Khazarian Mafia is the healthcare industry which registered a whopping $3.09 trillion in 2014, and is projected to soar to $3.57 trillion in 2017, in the US alone.
We can help take down the Dark Cabal by avoiding drugs, defeat any viral attack and scaremongering easily by knowing how to build our own comprehensive antiviral system. Find more about it here.