The Zionists control the electoral system of the United States, on top of their complete assimilation of the big media networks.
With today's recapitulation of the FBI under Comey, there's no stopping to the Clinton Campaign from capturing the White House, sans punitive actions from the true patriots of the land.
FBI Director James Comey has told Congress that a new investigation by his agency of Hillary Clinton's private email server has not unearthed any information that would warrant any charges being brought against the Democratic candidate.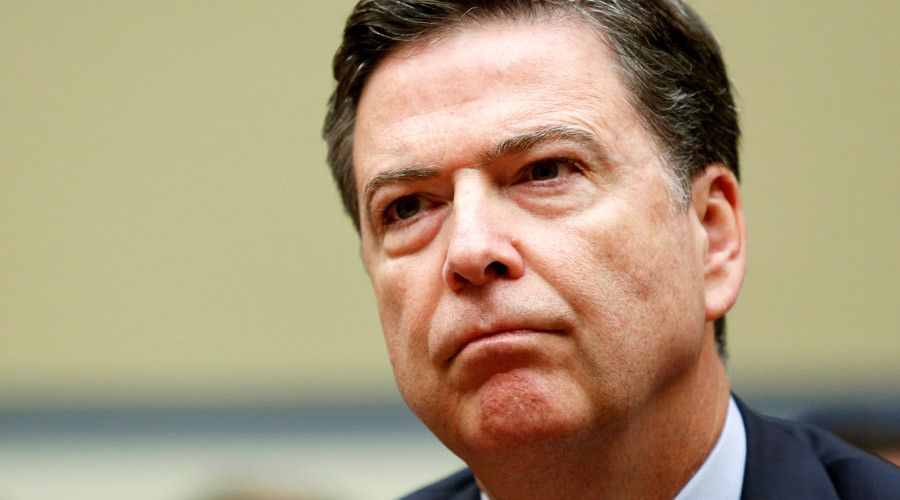 Saying that his team "has been working around the clock," studying emails on a laptop belonging to the husband of an aide of Hillary Clinton's, Comey claimed the review of the additional material "from a device obtained in connection with an unrelated criminal investigation" did not change the investigators' previous conclusion regarding Clinton's email practices.
https://www.rt.com/usa/365568-fbi-charges-clinton-emails/
Are we going to see a flood of FBI resignations any day now?
We really don't think that these people are ready to make selfless sacrifices to save what's left of the US Republic. Because if they did want to save the people, it should have happened years ago.
This means that the world will have to prepare for the continuation of terror, financial robbery and corporate takeovers of sovereign lands, while the US citizens continue to endure Corporate Tyranny for another four years.
Military Brass in Tehran: US in Chaos Worse than Libya, Somalia
TEHRAN (FNA)- Zionist lobbies are seeking hard to bring Hillary Clinton to office as possibly the last president of a country which is already in such a deep chaos that it might collapse soon, a top Iranian military commander said on Sunday.
"The international Zionism is fully serious and determined to empower Clinton and they have brought (Donald) Trump on the scene to stir controversy and overcome the problem of their low public turnout," Commander of Iran's Basij (volunteer) Force Brigadier General Mohammad Reza Naqdi said on Sunday.
"If anyone monitors the US media, he/she will see that the domestic situation in the US is no less chaotic than Somalia and Libya," he added.
Noting that the president in the United States has no authority and is just a puppet, General Naqdi said, "The internal situation in the US is so bad that certain analysts believe that Mrs. Clinton will likely be the last president of the United States."
Donald Trump's claims of "large-scale" voter fraud prompted officials across the US political spectrum to warn about the dangers of vigilante poll monitors amid fears of confrontations or even violence on US Election Day.
As opinion polls tightened this week between Trump and Hillary Clinton ahead of Tuesday's presidential vote, there are concerns of chaos following his claims, without serious evidence, that the election could be "rigged" and his refusal to say if he will accept the outcome, the Guardian reported.
The Democratic Party has launched a series of legal challenges around the country alleging voter intimidation, and on Friday in the battleground state of Ohio a judge issued a temporary restraining order against Trump's campaign and his unofficial adviser Roger Stone. The ruling said anyone who engaged in intimidation or harassment inside or near Ohio polling places would face contempt of court charges.
Republican leaders in some battleground states are reporting a surge of volunteers signing up to serve as official poll watchers, and in an unprecedented move, the Trump campaign itself has since August been requesting that volunteers sign up as "election observers" to "Help Me Stop Crooked Hillary From Rigging This Election!". Stone, meanwhile, has said he has helped recruit people to do "exit polls" to tackle voter fraud and denials.
The nation's most prominent anti-government militia and a neo-Nazi group have also announced plans to send their members to monitor for voter fraud outside the polls.
Former US attorney general Alberto Gonzales, a Republican who served under the administration of George W Bush and took a noted hardline on election fraud allegations, expressed caution. He told the Guardian: "I wouldn't be a big fan of those kind of private efforts, quite honestly. I would depend on the state and local officials to make sure of the integrity of the vote within particular precincts.
"The danger, of course, is that if you have a very heavy-handed presence that may in fact intimidate certain people based upon their age and their education."
http://en.farsnews.com/newstext.aspx?nn=13950816001406
Those who understand how meaningful change is done know exactly that it only takes a few people to start the revolution, and the rest of the population will follow seeing the groups' sincerity.
Never doubt that a small group of thoughtful, committed citizens can change the world; indeed, it's the only thing that ever has. – Margaret Mead
But the Zionists have succeeded in postponing the revolution through the false claims of pseudo-resistance groups endlessly claiming "green lights by next week."
The Zionists themselves are only few, but they are able to control billions of the population just by co-opting a few of them.
Well, the only verifiable anti-Zionist actions taken so far are those from China, Russia, Iran, and some ASEAN members.
Russia, for its part, is putting its aircraft carrier group to provide cover for Syrian anti-Daesh operations as the ongoing Plan B is anticipated to receive a great boost from a presumptive Clinton presidency.
They have also prepared the Russians for another war with the Nazis.
This parade aimed at evoking Russian patriotism is in addition to the massive 40 million strong nuclear bunker drills conducted several few weeks ago.
The Clinton presidency is also expected to provide more impetus to the ongoing Saudi genocidal operations against Yemen.
Saudi Arabia is one of the most generous Clinton Foundation patrons.
Without a few good men ready to take drastic actions against Washington DC, only an active, organized grassroots movement aimed at protecting the sanctity of their votes could change the current US political trajectory.
But, the prevailing indicators suggest that there are only a few brave souls in the Home of the Brave, and most of them are Natives.
So, where are the other 300 million righteous people in America?
Aside from the fiat monetary scam and bloodsoaked petrodollar, another significant source of funds for the Nazionist Khazarian Mafia is the "healthcare" industry which registered a whopping $3.09 trillion in 2014, and is projected to soar to $3.57 trillion in 2017, in the US alone. We believe that this is just a conservative figure.
We can all help the revolution by avoiding all Khazarian pharmaceutical drugs, defeat any viral attack and scaremongering, like the Zika virus, easily by knowing how to build our own comprehensive antiviral system. Find more about how we can kill three birds with one stone, right here.