Whether these successive tremors are still part of the endgame is something we can only speculate at this point.
Nevertheless, we need to prepare ourselves, and when necessary, take some appropriate actions.
Most of all, we don't need to fear the enemy. They are losing the game and they are financially bleeding. We just need to be alert about where they would strike next.
5.7 quake strikes off Yemen coast
Published time: 17 Aug, 2015 16:54Edited time: 17 Aug, 2015 17:00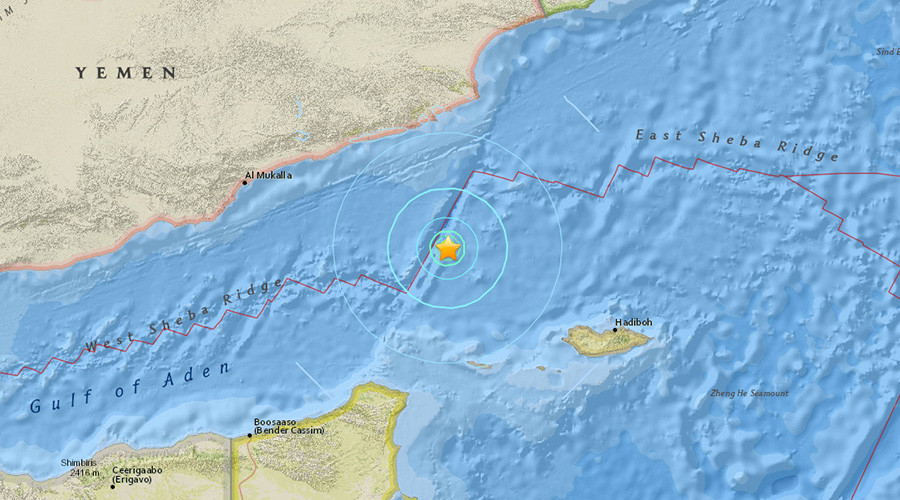 A 5.7-magnitude earthquake struck off the southern coast of Yemen on Monday, the US Geological Survey reports. The epicenter of the tremor was located at a shallow depth of 10 km.
So far there have been no reports of damage, and no tsunami warning has been issued.
Earthquake shakes San Francisco Bay Area
Published time: 17 Aug, 2015 14:07Edited time: 17 Aug, 2015 14:24
A 4.0 magnitude earthquake woke up the San Francisco Bay Area on Monday. With an epicenter near the town of Piedmont, between Oakland and Berkeley, the tremor struck at 6:49 a.m. local time.
According to the US Geological Survey (USGS), the quake was at the depth of 3.3 miles (5.4 miles), on the Hayward Fault running underneath the Bay Area.
Bay Area Rapid Transit (BART) has temporarily suspended service.
The quake caught KTVU weatherman Steve Paulson mid-sentence. A video clip is showing him staggering in the studio. "We have an earthquake … Oh my goodness, it's a good one."
There are no immediate reports of injuries or damages.
One of the significant sources of funds for the fascist Nazionist Jesuit Khazarian Mafia is the healthcare industry which registered a whopping $3.09 trillion in 2014, and is projected to soar to $3.57 trillion in 2017, in the US alone.
We can help take down the Dark Cabal by avoiding drugs, defeat any viral attack and scaremongering easily by knowing how to build our own comprehensive antiviral system. Find more about it here.